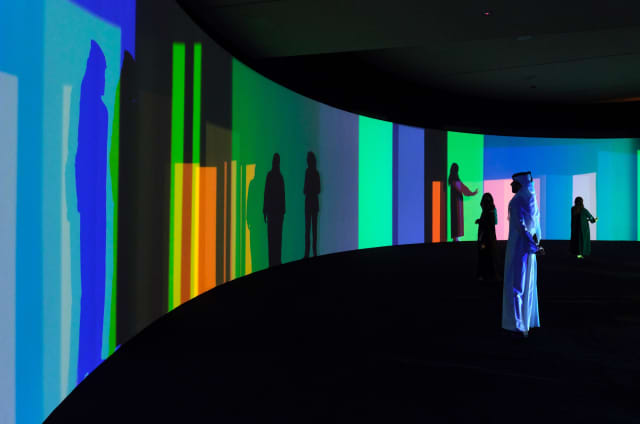 Broad bands of colour crawl across the walls of this circular room, wrapping visitors in a vibrant installation of ever-changing fields of light. The circular construction responsible for 'The living lighthouse' contains panes of coloured glass, colour filters, and shutters that turn steadily on motors as they are illuminated by spotlights from within. ⁠
⁠
The colourful shadows move along the walls, overlap, and give rise to secondary and tertiary hues. Visitors' silhouettes dance among the waves of light and colour, causing new shades and forms to cascade about the room. The disorienting curtain of moving light incorporates the walls and surrounding space into the artwork, transforming the exhibition gallery from a container for art into an object of attention in itself.⁠
⁠
Image: 'The living lighthouse', 2023; currently on show as part of Olafur's solo exhibition '
Olafur Eliasson: The curious desert
',
near the Al Thakhira Mangrove Nature Preserve and Qatar Museums - the National Museum of Qatar, Doha,
until 15 August 2023 (photo: Anders Sune Berg).⁠