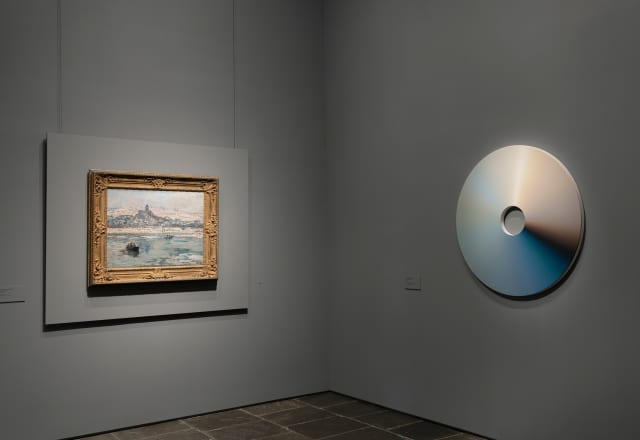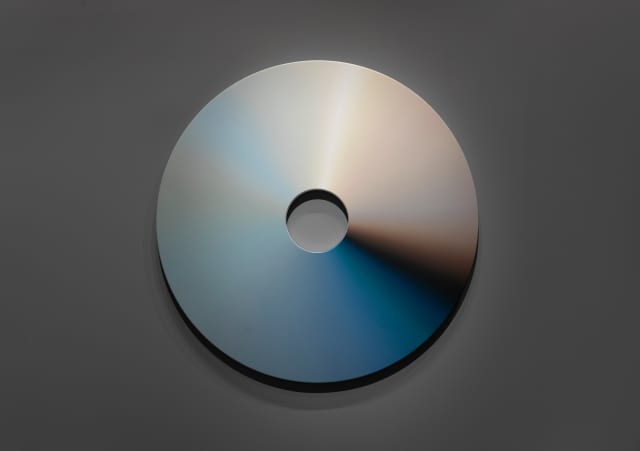 Colour experiment no. 109, 2020
For more than thirty years, in a wide-ranging artistic practice that embraces sculpture, installation, film, photography, and painting, Olafur Eliasson has explored his persistent interests in perception, movement, embodied experience, and feelings of self and community. In addition to exhibiting his art in museums and galleries, he also engages the broader public through architectural works, interventions in civic space, and educational projects that address sustainability and the climate crisis.
Since 2009 Eliasson has produced a large number of paintings collectively known as the Colour experiments. Painted on round canvases, often with holes at the centre, these paintings suggest alternative colour wheels to those taught in schools. To create the Colour experiments, Eliasson works with a small team of painters at his studio: the production process takes a long time, involving multiple stages in which layers of paint are applied to the circular canvases and allowed to dry. At various moments during the process, Eliasson discusses the works with the painters and changes are made. Finally, at the very end, he decides on the orientation of the finished colour wheel.
Over the years, Eliasson has developed a technique to analyse the colours, light, and luminosity of specific paintings or photographs as the basis for new Colour experiments. He has applied this technique to works by J. M. W. Turner and Caspar David Friedrich, for example, and, more recently, his own photographs of Iceland. The colours in this particular experiment, Colour experiment no. 109, were derived from a painting by Claude Monet (1840–1926), Vétheuil in Winter, 1878–79. The circumference of Eliasson's painting is large enough to contain the original painting by Monet, embracing it within the colour wheel.
For Colour experiment no. 109, a colour-calibrated photograph was made of Vétheuil in Winter at the Frick Collection, in New York, which resulted in a high-quality print that was sent to Studio Olafur Eliasson, in Berlin. Eliasson and the painter Sylvain Brugier then abstracted the palette from the subject matter, spreading the colours out onto the surface of the round canvas in a gradient colour wheel, transitioning from dark to light. The artwork was two years in the making.
Artwork details

Title

Colour experiment no. 109

Year

2020

Materials

Oil on canvas
Related
Books
Presentations